Private Lessons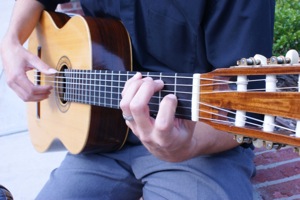 -$88 per month
-½ hour lesson once a week
-Monday through Thursday
-Morning and evening times available
-Located in Clermont off Hancock Road
-Call for availability
Teaching guitar since 2000, Joshua is every bit as passionate and gifted an instructor as a performer. He adapts his methods to each student's interest and skill, instilling a love for music while developing fundamental habits.

Joshua has trained both children and adults, from absolute beginners to experienced students. While he prefers focusing on classical guitar and the accompanying technique, theory, and etiquette, he also teaches those interested only in tablature or a specific aspect of guitar.

Having played from a young age himself, Joshua can also advise parents as to which instruments in which sizes would be appropriate for growing children, considering both value and proper sizing.