Orlando, Clermont, and Central Florida Classical Guitarist
Weddings, Guitar Lessons, Private Events
Joshua Englert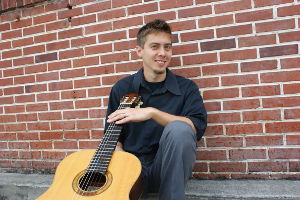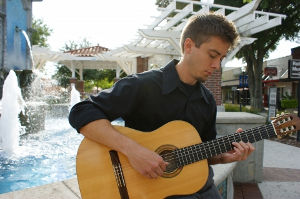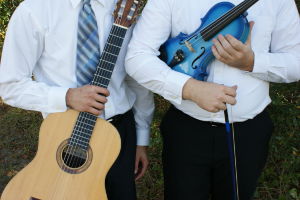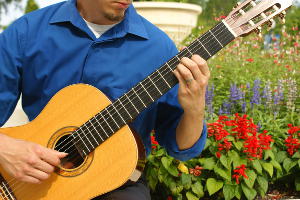 Upon discovering his love for classical guitar at the age of 9, Joshua Englert dedicated himself to the study and expression of music. He has since been under the apprenticeship of master guitarists, including David Hoge, Elman Concepcion, Bruce Holzman, Antigoni Goni, Steven Thachuk, Stephen Robinson, Thibault Cauvin, and Denis Azabagic. In addition to taking private lessons and practicing a minimum of four hours per day, Joshua developed his skill by receiving his Bachelor's degree in music at Rollins College 

Twice highlighted at the Stetson International Guitar Festival, Joshua has also performed at Tallahassee Symphony Orchestra fundraisers, Orlando Ballet auctions, Polacek Museum's grand opening, coach Bobby Bowden's home, Morse Museum, Casa Felis, Tiedki Concert Hall, Cornell Fine Arts Museum, and Osceola Center for the Arts, among many others. He has also been featured by several area arts publications. 

Joshua's exceptional musicality and technical proficiency delight listeners and, along with his engaging and professional manner, have given Joshua his reputation as Central Florida's premier classical guitarist for wedding celebrations, corporate events, and private engagements. His extensive selection of music includes Classical, Renaissance, Baroque, Romantic, Spanish, contemporary, and holiday pieces. 

With hours of repertoire and a collection of over half-a-dozen guitars to choose from, Joshua tailors the style and volume of music to suit each event. From high-end fundraisers to intimate celebrations, nothing is too elaborate or simple for the touch of classical guitar. His music adds elegance and ambience to events without overwhelming conversation, yet prevents dead spots and awkward silences. 

Joshua also shares his passion for music through teaching, offering private lessons at his studio in Clermont, Florida.